OR in Sports at IFORS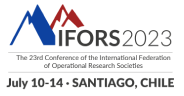 A stream on "OR in Sports" will be organized as part of the IFORS conference, July 10-14, 2023 in Santiago, Chile (more information about the conference can be found at https://ifors2023.com/).  This sports track can cover various applications and methodologies (e.g. optimization, statistics, analytics, economics, …), much like the OR in Sports sessions at the EURO conferences in previous years.
We invite you to submit an abstracts in our stream. Abstracts must be written in English and contain no more than 2500 characters. Each attendee is allowed to present one paper at the conference; the person submitting the abstract must be the one presenting.
For more information, contact [email protected] or [email protected]
Abstract submission deadline: March 15, 2023.