21-24 September 1988, Sevilla, Spain
Organizers:  B. PELEGRIN / F. R. FERNANDEZ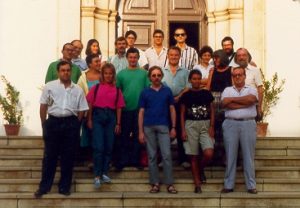 Top row: Brian BOFFEY, ?, Jaap VAN DIJK, ?, ?, Justo PUERTO, Dominique PEETERS
Middle row: Blas PELEGRIN, Françoise ORBAN-FERAUGE, Christian MICHELOT, Jean-Pierre BRANS, ?, Mrs. ROSING, Ken ROSING
Front row: Jose MORENO, Natividad JIMENEZ, Frank PLASTRIA, Rosa M. RAMOS, Francisco (Paco) R. FERNANDEZ-GARCIA
PROGRAM:
B.BOFFEY: "Hiearchical Location Problems".
J.P.RASSON: "A New Approach for a Natural Measure of Proximaties Also for Non Disjoint Training Sets and for Any Dimension of Space".
Fr.ORBAN-FERAUGE: "Critical Using of a Natural Measure of Proximities, Based on the Volume of a Multidimensional Set, for a Functional Partition of Space".
J.A.MESA: "Secencial Location-Allocation Problems with Markovian Properties on Networks".
J.MORENO, C.RODRIGUEZ, R.M.RAMOSand N.JIMENEZ: "On the Set Covering Problem in Minimax Location Problems".
F.PLASTRIA: "On Coincidence in Multifacility Location Problems".
H.IDRISSI, O.LEFEBVRE, Ch.MICHELOT: "The Use of Partial Inverse Method in Location Theory".
B.PELEGRIN: "The p-center Problem Under Bidirectional Polyhedral Norms".
K.E.ROSING: "On Finding P Central Locations in Continuous Space".
C.RODRIGUEZ, J.MORENO, N.JIMENEZ and R.M.RAMOS: "Computational Studies of Heuristics For The p-centre Problem".
K.E.ROSING and J.J.VAN DIJK: "The Problem of the "Best" Number of Groups in Clustering to Central Members".
J.MUÑOZ: "Competitive Location of Two New Facilities with Rectilinear Distances".
D.PEETERS: "Uncapacitated Plant Location under Alternative Spatial Price Policies".
LIST OF PARTICIPANTS:
BOFFEY Brian (United Kingdom), BRANS Jean-Pierre (Belgium), KARKAZIS John (Greece), MESA J. Antonio (Spain), MICHELOT Christian (France), MORENO Jose (Spain), RAMOS Rosa M. (Spain), JIMENEZ Natividad (Spain), ORBAN-FERAUGE Fr. (Belgium), PEETERS Dominique (Belgium), PLASTRIA Frank (Belgium), RASSON J.P. (Belgium), ROSING K.E. (The Netherlands), VAN DIJK J.J. (The Netherlands)
PROCEEDINGS:
III Meeting EURO Working Group on Locational Analysis, 226p.
editor: B. PELEGRIN
Publicaciones de la Universidad de Sevilla
ISBN: 84-7405-419-2